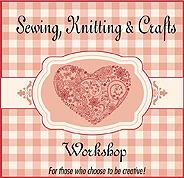 The Sewing, Knitting & Crafts Workshop, Greyville, Durban
From Thursday to Saturday, 29 – 31 March, 2012
Visit Teddytech at Stand No 34
We'll be demonstrating how to make quick, easy and inexpensive gift items. As always we will have a selection of bearmaking supplies, kits, patterns, fillings etc. If you are travelling from out of town and have any particular items you would like to collect from us at the show, please phone or email us and we will gladly pre-pack it for you to collect.
This is the 22nd year of the well-established Sewing, Knitting & Crafts Workshop so if you'd like to visit and get inspiration for starting a new hobby, contact Kim Dunbar on tel/fax: 031-3058844 or email: mudworm (at) saol (dot) com for more information.
If you can't attend the show, diarise to visit our website towards the end of March to view some of our available Crafts Workshop kits.