Stylishly elegant
or 'less is more'!
A perfect bear to make
and give to a gardening friend!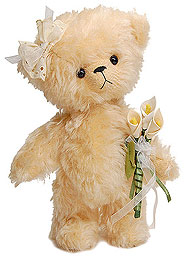 → Click here to find Lilliana kits & patterns on our website.
Have you heard of the expression 'gild the lily?' The saying is a paraphrase of lines from Shakespeare's 1595 play
"To gild refined gold, to paint the lily...
is wasteful and ridiculous excess."
It means wastefully and unnecessarily adding ornamentation or improvement to something where none is needed. We feel that way about our new bear, Lilliana!
About Lilliana
It is said that the lily is a symbol of purity and elegance, and our new teddy bear, Lilliana fits that description to a 'T'! She loves all lilies, but is particularly fond of her bouquet of arums. No showy clothes or glitzy accessories for this bear. She is perfectly happy with her Steiff-Schulte mohair coat, a simple bow in her ear and her favourite lilies. We've given her a cuddly and 'squooshy' bod by adding glass beads (or you could use plastic pellets) to her tummy.
Created from dense, champagne coloured Steiff-Schulte mohair with a distressed finish, Lilliana's DIY kit also contains her glass eyes, embroidery thread for her nose and mouth, joint discs and hardware, the pattern and instructions as well as all the trimmings to make her bouquet.
Hollofibre and optional plastic pellets/glass bead filling not included in the kit.
21cm
R175 excluding postage (+R25 insured econopost)
R35