Bring on the Blues!
Were you 'singing the blues' on Monday? Just being back at work after a leisurely weekend and the thought of another week ahead of you make it a 'blue Monday'?
'Blue' is often used to describe our feelings if we're feeling a little sad or unhappy, but in terms of the use of colour, it is also one that people list as their 'favourite' and is the least 'gender specific' colour, having equal appeal to both men and women. It is said to physically have a calming effect on us and aids intuition. Well, in that case, we say 'bring on the blues'!
And that's just what we're doing — bringing you a gorgeous blue Steiff-Schulte mohair that will make a terrific bear. Think of the calming effect — while making it, looking at it, cuddling it. And Mondays will no longer be 'blue' with a blue bear sitting on your desk.
Our 'Limited Edition Special' is Steiff-Schulte's sparse, slightly feathered texture, sky blue 16mm pile mohair with a cream backing. Of course mention must be made of Steiff-Schulte's famous 100% cotton, firmly woven backing which is essential to support the filling in your bear.
Most unusual and definitely different! Match it up with Teddytech's matching cream ultrasuede "Special" for your bear's paws and footpads.
---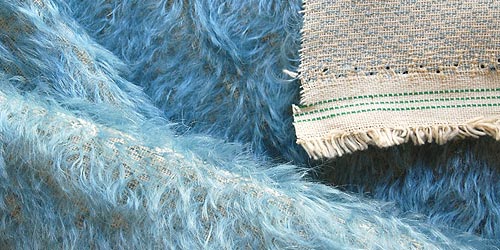 → Click here to find this Steiff-Schulte Mohair on our website.
Teddytech's 'Limited Edition' Steiff-Schulte Mohair Special
Code: SC89/16 colour #5429
Only R250 per 1/4 metre
(a fat quarter metre is 50cm x70cm)
---
→ Click here to find Ultrasuede products on our website.
Teddytech's Ultrasuede 'Special'
Only R30 per piece (size approx. 24cm x 18cm)
---
Add R25 to your order if insured postage is required.
Regret this special only available in South Africa.
Seize this special offer soon as only a limited quantity is available.