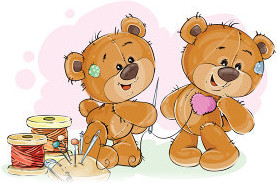 Save the Date for Teddytech's Open Day
Date: Saturday, 11th November 2017 from 9.30 am to 3.30 pm.
Venue: St Michael's Church Hall
Address: 8 Durban View Road (corner of Marine Drive), Umhlanga Rocks
Please RSVP for catering purposes
Email: info@teddytech.co.za or
Phone: 031-3127755
Get away from it all and join us for some relaxed bearmaking, socialising and sewing! Bring along your sewing supplies and unfinished projects to be completed before the year end — which is just around the corner. Meet and chat with other bearmakers, view and purchase bearmaking supplies.
Join us at a time that suits you:
Morning 9.30 - 12 noon or Afternoon 12.30 - 3.30 pm, or all day (if you're desperate for 'Me' time!).
Otherwise, pop in anytime during the day if you would like to stock up on your bearmaking supplies.