Sweet Suki — A new 'love me' bear!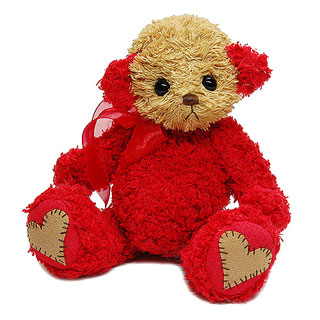 → Click here to view the Sweet Suki kit on our website.
Our Valentine Bear got side-tracked! Never mind... Sweet Suki just loves to be loved, no matter what day of the year! She's cute enough to make and give to a loved one or as a gift for a new born baby, any time. Her vibrant colour is sure to attract attention and the heart-shaped applique detailing on her footpads will show them exactly how you feel!
Sweet Suki is created from red, distressed pile, Steiff-Schulte 100% cotton pile (body, limbs and ears), which contrasts well with the teddy tan straight pile 100% cotton for her head. Her ultrasuede footpads have naive-style appliqued heart detail, she has jointed limbs and head, glass eyes and an embroidered perle thread nose and mouth, all of which are included in her kit. We've added glass beads to her tummy for some additional weight. Purchase her in kit or pattern form.
Hollofibre and glass beads for additional weight are not included in the kit.
Kit price: Only R140 excludes econo postage (within South Africa) of R25
Pattern price: R35
Orders can be placed via phone (+27) 031-312-7755, fax (+27) 031-312-9564, email or online.