Save the Date
Join us at our next Tea Party on Saturday the 27th October from 9am – 11.30am for a fun morning of meeting bearmakers and sharing ideas.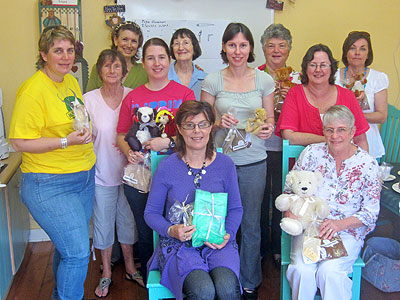 This group of enthusiastic bearmakers joined us at our last Tea Party and most of them rose to the invitation of bringing one of their bears along for Show and Tell. It's always rewarding for us to see their bears and, of course, a real inspiration to others. Thanks, ladies!
After a brief demo by Di on how one can creatively use wire and pipe cleaners in bearmaking, they were all given a 'Goody Bag', and promptly challenged to create something by using or adding to its contents, incorporating the tips they'd picked up from the talk. We're looking forward to seeing the results in October... and we know that some of them are already all fired up about getting their challenge done in time!