The first day of Spring has come and gone.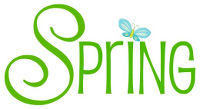 Most of us are familiar with the tradition of Spring Cleaning and we're told that the reason we should embrace it, is not only because it's good for your home, but it is also good for you! Here are some of the reasons it benefits our health and well-being...
...it increases productivity, is healthy, reduces stress and keeps us focussed!
Well, for those of us who need some motivating to just get started when it comes to house-cleaning, there's only one solution... crank up the music, include a few dance steps, get on with it and just keep thinking of those benefits!