Ship Ahoy!
Skippy Sailor on deck!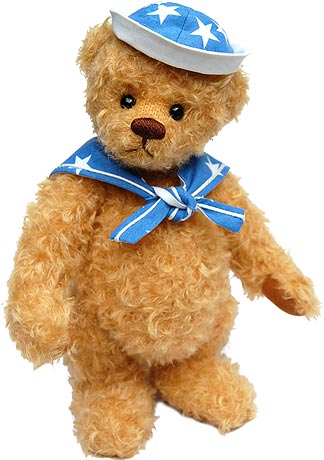 → Click here to find Skippy kits and patterns on our website.
Meet Skippy, our sailor bear who is a dab hand on deck. Whilst he has a love of sailing the seven seas, he certainly has empathy with those landlubbers* who haven't found their sea-legs* yet!
Dressed for life at sea, this cute and cuddly 30cm bear is created from Steiff-Schulte's matted mohair and proudly wears his nautical collar and round dough-boy* style sailor's hat.
Skippy's kit includes his pattern and step-by-step instructions, dense matted gold-coloured Steiff-Schulte mohair, ultrasuede for his paws and footpads, joint discs and hardware to give him mobility, glass eyes and perle thread for stitching his nose and mouth. Also included are the pattern, instructions and fabric to make his collar and sailor's hat. Hollofibre filling is not included.
Perfect as a gift for a new born baby boy or a sea-faring friend or relative.
Skippy Kit Only R325 incl VAT - complimentary postage within South Africa.
Skippy Pattern Only R35 plus R10 postage.
---
*So what do these nautical terms mean?
Landlubber
An unseasoned sailor or someone unfamiliar with the sea.
Sea-legs
Sea legs is the ability to walk steadily on the deck of a boat or ship.
Doughboy
One of many interpretations of this term is that doughboys were small round doughnuts served to sailors in the 19th century and so-called as they resembled the round buttons on the sailors' uniforms. The sailors came to be known as 'doughboys'. The name also refers to this particular style of sailor's hat because of its shape.