Every bunny loves a treat!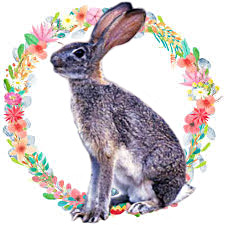 Here a hare, there a rabbit, everywhere a bunny...they are all in abundance at the moment. Not the real ones, of course, but those proliferating in shops in all shapes, sizes, varieties...some edible, some not!
So it could not have been more appropriate at this time of year, on a recent visit to the Drakensberg to have an unexpected visit from a real, live, scrub hare.
He appeared out of nowhere early one morning. Spellbound we watched as he happily hopped from spot to spot in the garden, displaying his fluffy white tail as he did so. He was also on high alert, and when he stopped to carefully survey his surroundings, his large ears, then erect, revealed their lovely inner ear, light red colouring. These hares rely on their large ears to detect danger and extremely powerful legs to make a fast getaway. And getaway he did as soon as he saw us! What an absolute joy and privilege to see!