Get ready for Teddytech's Black Friday Bearmaking Bonanza!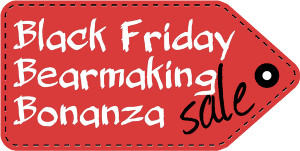 Thanksgiving Day in the USA is celebrated on the last thursday in November and anyone who has had the pleasure of enjoying a memorable Thanksgiving Thursday with friends/family in America knows that it's a grand occasion.
No sooner are the Roast Turkeys and Pumpkin Pies a thing of the past and the next big event happens. The day following Thanksgiving Thursday is known as Black Friday and is the unofficial start of their holiday shopping season and almost all stores have the most amazing sales. It's a shopping frenzy!
Whilst all this background information is interesting, the big scoop is that you, too, can take advantage of Teddytech's Black Friday Bearmaking Bonanza and stretch those rands a little further to acquire some special items to add to your stash!
How does it work?
Certain items on our website, in limited quantities, will be available at Black Friday Bearmaking Bonanza prices only on Friday 24th November, starting at one minute past midnight for 24 hours only.
TIP: Remember, the early bird catches the worm, so if you are looking for a particular item, it may well be on sale, but you will have to be quick off the mark and place your online order early to ensure you're a winner!
Regret no back orders at Bonanza prices once the limited quantity items have sold out.