Move over Rudolph — here comes Dancer!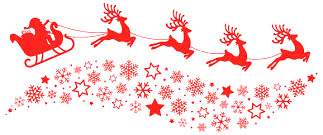 Christmas is upon us and once again Santa and his team are preparing for the big night! The reindeer are getting into their stride making sure they've done enough endurance exercises and are fit for the journey. Whilst Rudolph has always been the centre of attention at this time of the year, we have a little surprise in store for you.
Some interesting facts reveal that reindeer are the only deer species in which females have antlers too. The male reindeers shed their antlers during the winter months in the northern hemisphere, whilst the female reindeer retain theirs until spring. Ever seen an image of Santa's reindeers without antlers?
Furthermore, male reindeer also lose vitality during the winter months, whilst the females are strong and healthy. So would it not stand to reason then, that only female reindeer would be able to drag a 115kg man in a red velvet suit all around the world in one night...and not get lost?! Just saying...