Mitzi Kitzi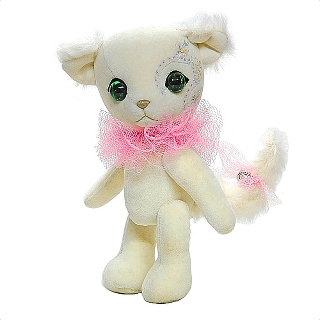 → Click here to view Mitzi Kitzi kits and patterns on our website
Our newest kitty cat kit is a real cutie pie! She fancies herself as a prospective participant in the dramatic world of Cirque du Soleil-style entertainment and thinks she'll fit the bill with her delicately 'painted' embroidered face detail and fluffy, bow-tied, tinkle-bell adorned tail!
Her large, green glass cat's eyes add to her appeal and the fur on her outer ears contrast well with rest of her soft, mini velvet body. A ruffled frill around her neck adds a finishing touch.
Mitzi Kitzi's kit includes fabrics, glass cat's eyes, joint discs and connectors, ultrasuede eye backing, assorted embroidery threads, pattern and instructions.
Cost of pattern: R35
Cost of kit: R110
Kit, including postage - Only R135 within South Africa