Hello Hopkin Hare!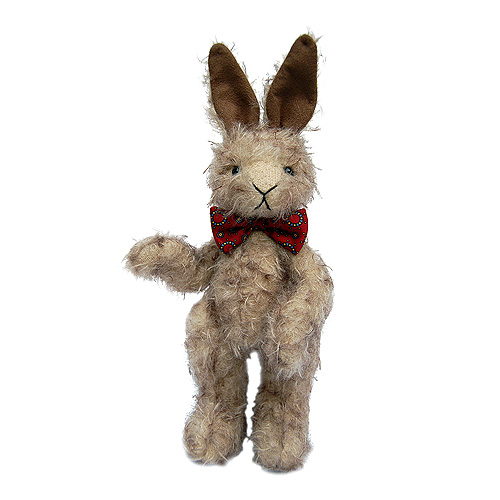 → Click here to find Hopkin Hare kits / patterns on our website.
Here at last. He arrived in style, resplendent in his bow-tie and welcomed by the Toybox gang. Not knowing what to expect, they initially thought he could be a bit of a dandy sans the waistcoat, top hat and cane, but, he proved them wrong and he has settled down perfectly to life with his newly acquired friends.
Hopkin's Steiff-Schulte mohair coat, in antique-style beige pile with a subtle taupe tip, provides an elegant contrast in both colour and texture against his darker taupe ultrasuede inner ears and footpads. He stands 19cm tall from his feet to the top of his head and just reaching 24cm to the tips of his ears (which have wire inserted so you can bend them for effect). He has glass eyes, is five-way jointed and has glass beads in his feet and is firmly filled so he can stand on his own. A richly coloured bow tie around his neck adds a touch of class!
Hopkin Hare is available in a DIY kit at R155
Kit excludes hollofibre and glass beads.
Add R25 for insured postage for shipping within South Africa.