Blooming Marvellous!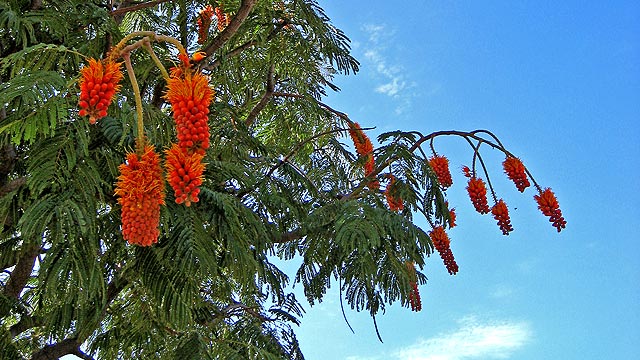 Planted on the pavement outside our shop is a tree that is claimed by many to be one of the most spectacular flowering trees in the world. It is one of Durban's famous street trees — Colvillea Racemosa, also known as Colville's Glory Tree, and many of them can be seen all along Florida Road.
This semi-deciduous tropical tree is native to the island of Madagascar and could be referred to as one its greatest treasures. It was named after Sir Charles Colville, who was the British Governor of Mauritius from 1828 to 1834.
Each autumn we are indeed fortunate to be able to look out the front window of our shop and view this magnificent tree in bloom. Its fine, feathery, fern like leaves create a rich green backdrop for the gorgeous clusters of large, drooping orange flowers that cover the top of the tree like a canopy.
Blooming is eventually followed by long, flat dark brown seed pods which split open to reveal horizontally arranged seeds.
Even with the approach of winter, the tree's green foliage continues to provide welcome shade during Durban's warmer days. And of course, we then remind ourselves how blessed we've been to see nature at its finest and that we can look forward to the blooming of the Glory Tree again next year!